The Pharmalab-System comprisees of the following components:
Pharmalab Main Station
This contains the software, the databases, all PDF-files, a connection to the backup-system and to the remote backup-server. All date are located on the server.
Pharmalab Remote Backup
Once a day, all data are copied to the Remote Backup Server. If no Remote Backup Server is available it can also be copied to a the worksation.
Workstation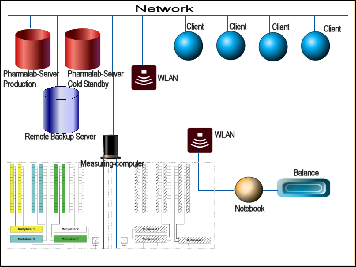 The browser is used to access the application. No components of the Pharmalab software are installed or stored on the clients. Only a PDF-Reader is necessary.
Measuring Stations
They are connected to the server via a network. The Pyrogen measuring station as well as the Gemini-server (TECAN) are connected to the network.
Network
the Pharmalab System is delivered as stand alone, however it is possible to integrate the system into your Intranet Solution without problems. Also a remote-access possibility is integrated, so that we can help you at all times if required.
Printer
Phamalab uses PostScript color-laserprinters. These are connected to the Depending on your choice documents can be printed ether manually or automatically.
Since all measuring-interfaces are connected to the server this means that a test can be started and performed directly or indirectly from the server. A workstation is not needed for a test itself. The server talks to the measuring stations, and they answer.